Newsroom
Stay up to date on the latest Farm Credit East news. Also, enjoy the latest edition of our Financial Partner magazine
Latest News
Press Releases
Farm Credit Awards Efforts to Develop and Promote Northeast Agriculture
The Farm Credit Northeast AgEnhancement Program, a joint effort of Farm Credit East and CoBank, recently provided $65,000 in grant funding to 17 organizations to assist their efforts to support young and beginning farmer initiatives, encourage youth leadership development, promote diversity equity and inclusion, and advance northeast agriculture, forestry and commercial fishing. Submissions for the next round of grant funding are due by April 1.
January 30, 2023
All Releases
The search results are displayed
Press Releases
Crops Growers Hosts Webinar Series: 2023 Crop Insurance and Dairy Outlook
As the new year begins, producers need forecasts and strategies in order to solidify their 2023 risk management plans. Join Crop Growers, LLP for two free 2023 outlook and risk management webinars being hosted this January: 2023 Crop Insurance Strategies and Outlook, and Dairy Outlook 2023 – Managing Your Risk: Markets, Margins and Revenue.
January 09, 2023
Press Releases
Farm Credit East Presented 2022 Dairy Outlook Webinar
2021 was an unpredictable year with the impact of COVID-19 on dairy farm operations, as well as schools and foodservice markets still being felt. What does 2022 look like? Farm Credit East and Cornell University's Dr. Chris Wolf recently presented Farm Credit East's annual dairy outlook webinar.
January 14, 2022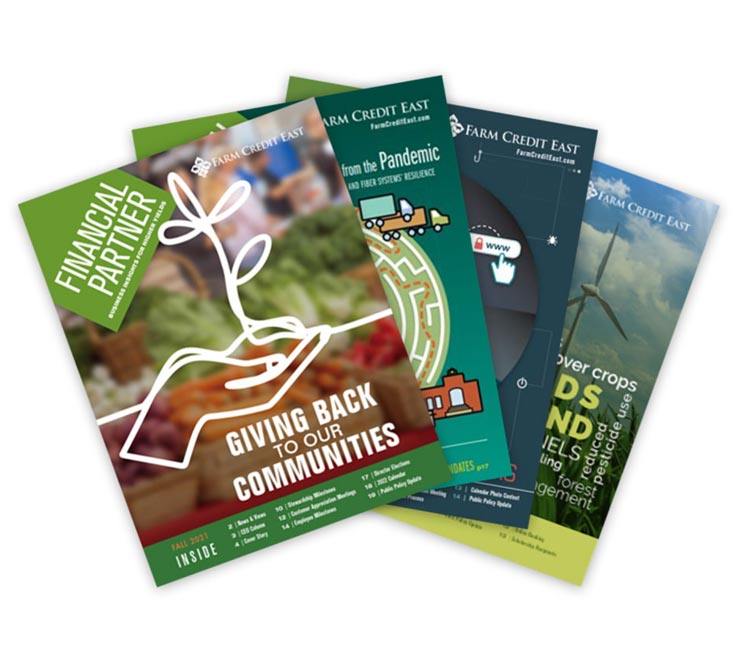 Financial Partner Magazine
Our Financial Partner magazine provides business insights and cooperative updates for customers, employees and friends of Farm Credit East.