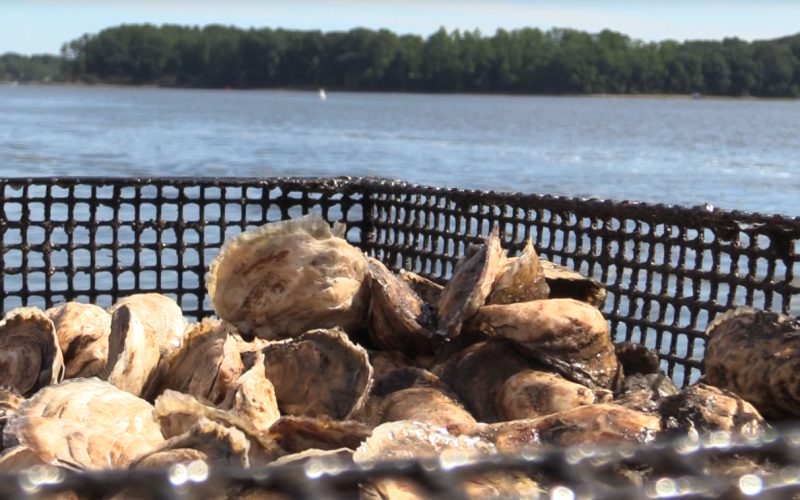 Innovation begins with a new idea. Northeast farmers, fishermen and foresters are great examples of innovators because they take it upon themselves to experiment and develop creative ways to make a big impact. To highlight their efforts, we're launching a series on innovative practices Northeast producers are undertaking to create value for their surrounding community and beyond. Our first story comes from Great Bay, NH, where Jay Baker has embraced a mission to not only grow high quality oysters, but also to improve the quality of the waters he farms.
In his professional career, Jay was a strong advocate for sustainable business models; less impact on land and water and approaches that would not only protect those resources, but restore them. That's why, in 2012, he left his full-time job as an environmental regulator with the state of Massachusetts to put his preaching into practice by starting an oyster farm.
"One issue that many of the embayments and estuaries have in New England is over enrichment from farm and storm water runoff," explained Jay. This runoff leads to an excess supply of nutrients which, in turn, grows more plankton that feed off those nutrients and depletes both oxygen and sunlight penetration from the water.
Oysters act as filter-feeders for the bay, aggressively pumping the plankton out of the water and incorporating it into their tissue. "So we're net nutrient exporters, and I think that's a huge benefit throughout New England's estuaries."
An adult oyster can filter as much as 50 gallons of water a day. But it takes two to three years to grow a thumbnail-sized oyster to a market-sized oyster (about 3-inches) and the oyster's filtering capacity grows along with that. However, Jay expressed confidence that the residents of Great Bay's shore would see a noticeable difference in water quality as the number of oysters in the bay grows. "I love the biology of these animals," remarked Jay. "Oyster farming is a great example of a sustainable business."
Jay's intention in pursuing this endeavor was to keep his day job and oyster farm as a side project, but as soon as he got started, he says he couldn't look back. Today, his operation, Fat Dog Shellfish, has grown to serve 15 different raw bars, restaurants and retailers between Portsmouth, NH, and Boston, Mass. But his mission embodies more than just growing and selling oysters. He's fueled by the process, and that's what is making the most difference to water health in Great Bay, New Hampshire.
To hear his full story, click below.
Meet the Authors
Connect with and discover our Today's Harvest blog authors and their broad range of financial and northeast agricultural expertise.