Newsroom
Stay up to date on the latest Farm Credit East news. Also, enjoy the latest edition of our Financial Partner magazine
Latest News
Press Releases
Farm Credit Awards Efforts to Develop and Promote Northeast Agriculture
The Farm Credit Northeast AgEnhancement Program, a joint effort of Farm Credit East and CoBank, recently provided $65,000 in grant funding to 17 organizations to assist their efforts to support young and beginning farmer initiatives, encourage youth leadership development, promote diversity equity and inclusion, and advance northeast agriculture, forestry and commercial fishing. Submissions for the next round of grant funding are due by April 1.
January 30, 2023
All Releases
The search results are displayed
Press Releases
Farm Credit East Scholarship Application Open
Farm Credit East is currently accepting scholarship applications from high school seniors and college students with career aspirations in agriculture, commercial fishing and the forest products industries from across the association's seven-state territory. Applications are due by April 1.
March 17, 2021
Press Releases
Farm Credit East Releases Insights & Perspectives Report
Farm Credit East recently released its 2021 Insights & Perspectives report which includes market outlooks for multiple sectors, including dairy, grain, greenhouse and nursery, fisheries, and forest products. This year's report also includes a cybersecurity update.
March 03, 2021
Press Releases
Farm Credit East Pays $89 Million in Patronage Dividends
Farm Credit East, ACA, the Northeast's largest agricultural lending cooperative, announced its distribution of a record $89 million in cash patronage dividends to more than 11,000 farm, fishing and forestry business owners and operators across Connecticut, Maine, Massachusetts, New Hampshire, New Jersey, New York and Rhode Island.
February 24, 2021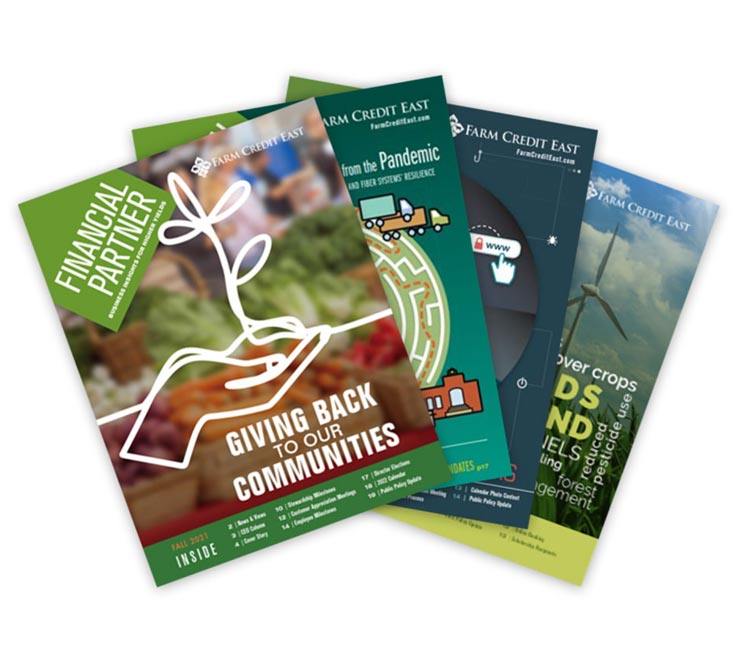 Financial Partner Magazine
Our Financial Partner magazine provides business insights and cooperative updates for customers, employees and friends of Farm Credit East.