Newsroom
Stay up to date on the latest Farm Credit East news. Also, enjoy the latest edition of our Financial Partner magazine
Latest News
Press Releases
Farm Credit Awards Efforts to Develop and Promote Northeast Agriculture
The Farm Credit Northeast AgEnhancement Program, a joint effort of Farm Credit East and CoBank, recently provided $65,000 in grant funding to 17 organizations to assist their efforts to support young and beginning farmer initiatives, encourage youth leadership development, promote diversity equity and inclusion, and advance northeast agriculture, forestry and commercial fishing. Submissions for the next round of grant funding are due by April 1.
January 30, 2023
All Releases
The search results are displayed
Press Releases
Farm Credit East and Yankee Farm Credit Announce Merger Plans
Farm Credit East and Yankee Farm Credit are pleased to announce the board of directors of both associations have unanimously approved the signing of a letter of intent to merge the two organizations. This letter sets forth the terms and conditions of a proposed merger, which requires regulatory and stockholder approval. The combined association will operate under the Farm Credit East name and, if all conditions are met, the newly merged association is expected to begin operation under the management of Farm Credit East CEO Mike Reynolds on January 1, 2022.
April 08, 2021
Press Releases
Farm Credit East Encourages Stockholders to Vote in 2021 Director Elections
The 2021 director candidates were formally introduced at Farm Credit East's Annual Meeting in March, and following, voting stockholders were mailed their ballots to vote in the 2021 Director Elections. As a customer-owned cooperative, the annual director election is an important opportunity for stockholders to express their voice in ownership and direction of the cooperative. Farm Credit East encourages members to vote. Ballots must be submitted by 5:00 p.m. on Monday, April 12.
March 31, 2021
Press Releases
Farm Credit East Reports Strong Financial Results
Farm Credit East reported solid 2020 financial results today, showing continued growth in loans coupled with strong earnings, which allowed the financial cooperative to distribute a record $89 million in patronage dividends to eligible customer-owners on 2020 earnings.
March 22, 2021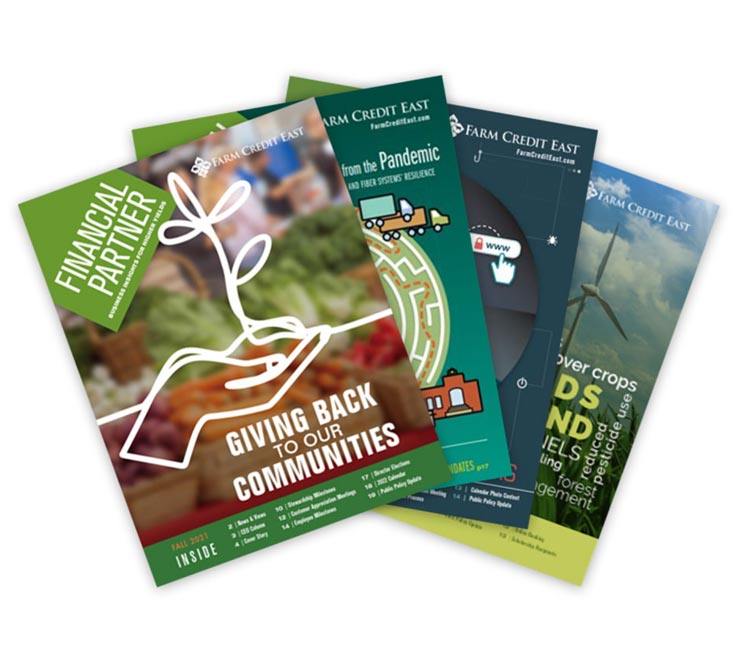 Financial Partner Magazine
Our Financial Partner magazine provides business insights and cooperative updates for customers, employees and friends of Farm Credit East.